Contributed
In mid-January, the N.C. Wildlife Resources Commission (NCWRC) issued a proclamation outlining significant changes to the 2021 striped bass harvest season in the Roanoke River Management Area.
The 2021 harvest dates will be:
April 10–16 in the lower river zone (downstream of the U.S. Highway 258 bridge at Scotland Neck to the mouth at Albemarle Sound).

April 24–30 in the upper river zone (upstream of the Highway U.S. 258 bridge at Scotland Neck to the base of Roanoke Rapids Dam)
The harvest reduction was deemed a necessary conservation action intended to rebuild the striped bass population after results from a 2020 stock assessment indicated that the stock was overfished, and overfishing was occurring. 
Read more about the changes to the 2021 Roanoke River striped bass harvest season here. 
View map of impacted areas here.
Watch NCWRC's webinar "Cooperating, Collaborating and Planning for Coastal Striped Bass Management" presented by Research Director David Cobb and Anadromous Research Coordinator Jeremey McCargo for a deep dive into striped bass management efforts.
---
Wildlife Diversity Award Nominations Close Jan. 31
Now is the time to submit your nomination for the 2021 Thomas L. Quay Wildlife Diversity Award that honors an individual who has made a significant commitment to, and provided leadership in, the promotion the conservation of nongame species and their habitats in North Carolina. The award recipient will be announced this summer. 
---
Make Your Voice Heard Now
The public comment period for proposed changes to the 2021-2022 inland fishing, hunting, trapping and game land regulations will close on Monday, Feb. 1 at 11:59 p.m. If you haven't had the opportunity to review the proposals a pre-recorded overview is available.  
We want to hear from you! Please submit your comments on the agency's online portal, by email or by mail to Rule-Making Coordinator, N.C. Wildlife Resources Commission, 1701 Mail Service Center, Raleigh, NC 27699-1700. 
---
Stunning Portrait of Common Grackle Wins Photo Competition
Matt Cuda of Tobaccoville, a 48-year-old software developer who has been dabbling in amateur photography since 1995, won the grand prize in the 2020 Wildlife in North Carolina Photo Competition. The winning image, a portrait shot of a common grackle, was featured on the January/February 2021 edition of Wildlife in North Carolina and earned Cuda $200.
Read more about Cuda's submission and the other category winners at WINC online, or consider a subscription to WINC —available in print and digital editions. 
---
NCWRC improvements to the Lake Hinson Park project included a rebuild of the public fishing pier, a new retaining wall, a new concrete boat ramp, two new floating docks and major repairs to the facility's walkways. 
Division Spotlight: NCWRC Engineering Team Restores Hinson Lake Boat Ramp 
NCWRC has a team of 22 engineers and construction technicians dedicated to improving facilities to better serve you. They are constantly improving water access areas, public wildlife and fishing facilities, and supporting game lands maintenance and NCWRC's infrastructure across the state.
In January, the team completed the reconstruction of Hinson Lake Park Boating Access Area in Rockingham. Thanks to the hard work of NCWRC's engineers and construction crew, and Rockingham county partners, this facility can once again be enjoyed by outdoor enthusiasts for many years to come. 
---
Bird Programs Ready To Take Flight
Whether you are an experienced birder, or simply enjoy bird watching in your yard, check out these exciting opportunities for you to take part in avian conservation.
The

 Great Backyard Bird Count

, Feb. 12–15, encourages bird enthusiasts of all levels to watch, count and report about birds in their communities to help scientists better understand global bird populations.

The 

NC Bird Atlas

 is the first project of its kind in North Carolina, spearheaded by NCWRC and in partnership with multiple organizations. The 

5-year study

 begins this spring and 

volunteers are needed

.
Helpful birding resources: NCBirdingTrail.org, Top 5 Bird Identification Resources.
---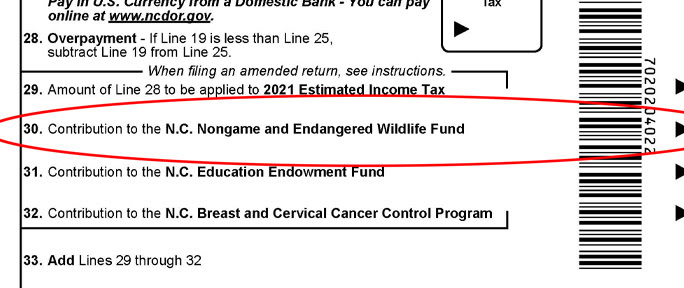 Donate to the Nongame and Endangered Wildlife Fund at Tax Time
Individuals will be able to start filing their income taxes on Feb. 12. If you expect to receive a refund, please consider donating it to the Nongame and Endangered Wildlife Fund. This can be done by checking the box on line 30 on your tax form or clicking "yes" when asked the question when filing with electronically. Your participation is crucial in securing adequate funding to protect the future of nongame and endangered species.
If you do not expect a refund, but want to support nongame wildlife, please consider a direct gift to the N.C. Wildlife Diversity Endowment Fund.
---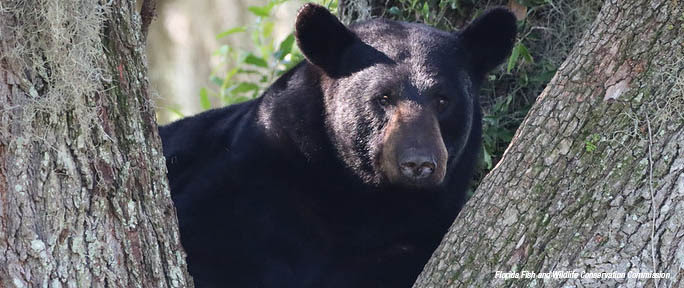 Feedback Needed from Hunters for Annual Bear e-Stamp Survey 
NCWRC is seeking important feedback from bear e-stamp holders so agency staff can determine:
Number of active bear hunters in NC.

Success rates by harvest method.

Changes in harvest levels due to changes in hunting methods.

Trends in the overall bear population.
This information will guide the NCWRC's management decisions for Black Bears and bear hunters, and be used to evaluate current and future regulations and statutes. Please complete our online questionnaire, even if you did not hunt for bears during the 2020 season. Your immediate response is appreciated. 
---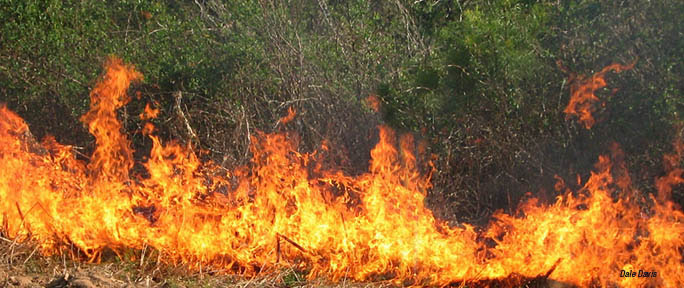 Prescribed Burns Likely Coming to a Game Land Near You
Each winter, NCWRC staff begin to conduct a series of prescribed burns throughout the state. The agency is scheduled to burn approximately 35,000 acres January-July, so don't be alarmed if you see smoke on a game land near you. 
---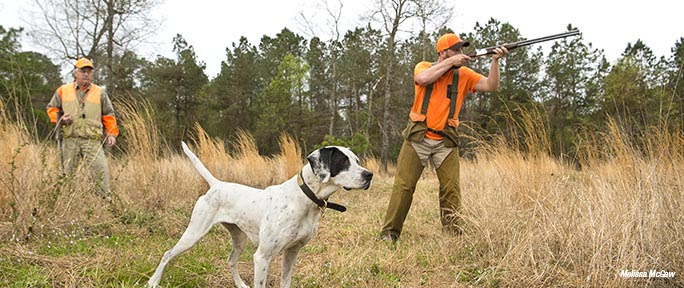 Wildlife Recreation Guide
Curious about what you can hunt, fish and trap this time of year? Check out our Regulations Digest online.
In-Season:
Deer

 (Urban Archery only)
§ Special note: Youth & Veterans/Military Waterfowl Days are Feb. 6 & Feb. 13
Need a license? It's just a click away!
---
Were you new to hunting or fishing in 2020? If so, the Wildlife Commission's Education Division would love to hear your story! 
Email us at wrceducation@ncwildlife.org with a few details about your new hunting or fishing experience, including how you got started, where you went and how you did. 
---
Upcoming FREE Classes, Workshops & Programs:c
Virtual and in-person opportunities are available!
ForestHer NC, Enjoying your Woods Webinar #2, Recreational Trails & Aesthetic Forestry
Outer Banks Center for Wildlife Education, Corolla
John E. Pechmann Fishing Education Center, Fayetteville
Pisgah Center for Wildlife Education, Pisgah Forest
Turkey Hunting Skills Based Seminars, Statewide
---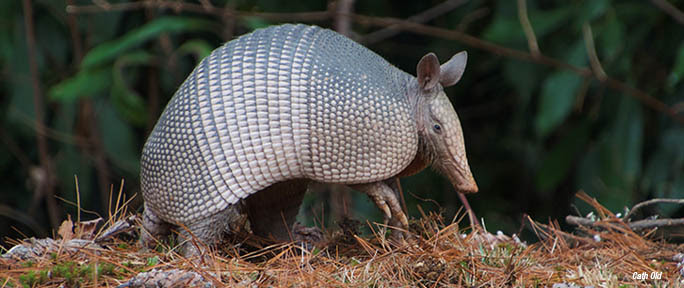 Species Spotlight // The Nine-banded Armadillo
The cute, yet not so cuddly, Nine-banded Armadillo arrived in N.C. in the late 2000s, and is primarily observed in the western part of the state, although statewide sightings are increasing. They are classified in the same order as anteaters and sloths, and are the only mammals that have a shell, which consists of hardened skin plates covering their bodies.
The "armored pig" forages the forest floor with its long snout and long, sticky and flexible tongue for grubs, termites, fire ants and worms —usually alone at night, but also during the day in the winter. Their tell-tale sign is multiple shallow holes in the yard. Their digging habits have been known to dismantle gardens, flower beds and lawns.
Armadillos can be trapped during the regulated trapping season (Nov. 1 through the end of Feb.) or with a depredation permit. They can also be hunted year-round. It is illegal to relocate or poison an armadillo. If you observe an armadillo, call the NC Wildlife Helpline at 866-318-2401 or email NCWRC. 
---
Fact or fiction? Armadillos carry leprosy.
Fact: Armadillos, like humans, can contract leprosy, however; it is relatively uncommon and your chance of exposure is low, especially if you wear gloves when in contact with any wildlife and when gardening.
---
Research provided by Colleen Olfenbuttel, N.C. Wildlife Resources Commission, 2019.
---

Give the Gift of the Outdoors to the Nature Lovers in Your Life.
For Valentine's Day, receive two digital subscriptions to Wildlife in North Carolina for just $10. Named the best state wildlife magazine in the nation six times, each issue of Wildlife in North Carolina magazine features informative and entertaining stories about hunting, fishing, conservation, species, wildlife photography and much more. The digital edition of Wildlife in North Carolina is conveniently delivered directly to your inbox. Order today.
About Author